Sandy likes the Enterprise off-leash area. There's an interesting pond there, and it turns out its so shallow she can run across it to the other side.



Enterprise Off-Leash Area

The first time she realized that, she was already ON the other side. I thought she'd head for the hills, but when I called her, she came running around the pond and showed up at the gate to the OLA. She was so proud of herself! It must have been just like a Disneyland ride. "Open the gate! I want to try that again!" And she did, several times. Charging across the pond, waiting until I called her, and then running up to the gate so I could let her back in again.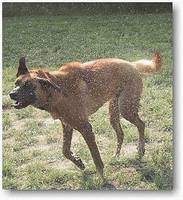 After a few circuits around the pond, Sandy shakes the dog. This doesn't mean the dog is dry.

The pond has bull rushes growing around it so dogs can disappear into the pond. There's plenty of room to run on dry land as well, and bunnies on the other side of the fence in the Shaw cable equipment yard. It's a great place to dig a hole.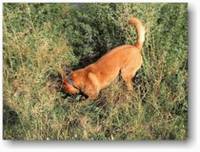 There is something good between the top of this hole and the bottom of it.

Just past the off-leash area are the dirt trails to the places where homeless guys live, and people let their dogs run free. There are railroad tracks. There's a creek. There're lots of good smells. People come to watch the birds. Apparently, this place is on some sort of list of good places to go to watch the birds. One day Sandy and I were in the off-leash area when I noticed a couple watching us from the other side of the fence.

It turns out they were from out of town, and they thought the area was fenced to keep dogs out. I had to explain to them that here in Kelowna, dogs aren't allowed to go anywhere unless they're fenced in. They were amazed. It made no sense to them. When I thought about it made no sense to me, either.

Today the dog association had a little cleanup of the Enterprise OLA. In less than 30 minutes, half a dozen of us cleaned up the park. We didn't find much dog poop, but we did find lots of other interesting stuff. I thought I had the find the day with the baggie of stems and seeds. But someone else found three unopened beers! I swear to God we're licensing the wrong species.